Do you have stubborn, unwanted fat that will not go away in spite of regular exercise and a healthy diet?
In many cases, you can achieve the lean contours you dream about with the help of liposuction surgery.
Learn how Carmel Cosmetic and Plastic Surgeons serving Indianapolis and Carmel, IN, can help...
Improve Definition
and Boost Your Confidence
Reveal Your Figure
If you have unresponsive fat deposits, you are not alone. Even women and men with vigorous exercise regimens and strict diets can carry unwanted weight. Liposuction can help you fully enjoy major milestones such as helping to contour your body after significant weight loss and regaining your figure after childbirth.
Nearly Immediate Gratification
As with any type of body contouring surgery, liposuction will require downtime so that you can fully recover. However, you should notice an immediate refinement to your figure following the procedure.
Experience a Healthier Self-Image
Stubborn fat that will not go away despite considerable physical effort and a restrictive diet can leave you feeling defeated and self-conscious. Liposuction can provide relief by shaving off excess fat, boosting your self-esteem and confidence.
Requirements
for Liposuction Patients
It is important to keep in mind that liposuction is not a weight-loss treatment. It is intended to eliminate small amounts of excess fat that do not respond to diet or exercise.
You may be a candidate for this type of plastic surgery at our Carmel, Indiana, plastic surgery office, serving the greater Indianapolis area, if you have fat deposits in your:
Face
Chin
Neck
Breast/Chest
Back
Abdomen
Hips/Buttocks
Thighs
Calves
"I couldn't be happier!"
5-Star Reviews
Carmel Cosmetic and Plastic Surgeons has the complete package. The surgeons and staff are great. They are always very helpful, knowledgeable and able to answer any questions I have. My experience here has been wonderful and I would recommend them to anyone!
View On Google
My breast reduction surgery was the best thing I have ever done for myself and well being. Started with a consultation with Dr. Liz Grasee, who by the way has an excellent rating "5". Dr. Grasee took the time to explain the procedure and everything to expect before, during and postop care. She allowed enough time to cover all areas of the surgery and I felt at ease preceding with the surgery. Procedure was performed at the outpatient facility and all the staff were very informative and attentive. Afterwards I had mininual pain!! I can now wear an undergarment which fits so comfortable and flattering. No more back pain and love my results. She is truly the best surgeon for breast reduction and liposuction. I highly recommend Dr. Grasee!
View On Google
Schedule an Appointment
to Learn More
The team at our Indianapolis area office is dedicated to helping you achieve the confidence you deserve. Our surgeons can enhance your unique beauty with safe, precise liposuction techniques and expertly tailored treatment plans. Together, we can meet your personalized goals and achieve results that you can be proud to share with the world.
To schedule a consultation and learn more, contact us online or call our office at (317) 581-0001 today.
Special Considerations
following Bariatric Surgery
Successfully losing a considerable amount of weight can cause the skin to lose elasticity and hang off your frame, obscuring the results you worked so hard for. Regardless of whether you underwent bariatric surgery or achieved dramatic results with lifestyle changes, massive weight loss can leave you with sagging skin and pockets of fat in various areas such as the arms, thighs, and abdomen.
Liposuction at our Carmel, Indiana, office, serving the greater Indianapolis area, can be useful for fat removal, but it cannot address sagging skin. Generally, liposuction is only recommended after significant weight loss in combination with other body contouring procedures. Surgical options to address sagging skin include abdominoplasty (tummy tuck), arm lifts, breast lifts, and thigh lifts.
For certain cases, our doctors can utilize liposuction as part of a fat transfer to adjust the proportions of your figure after major weight loss.
So thankful for the excellent care I have received. Dr Grasee and her staff are extremely caring and professional.
View On Google
The staff was very friendly and professional. Made me feel like I was their only patient.
View On Google
How Does Liposuction Work?
Patients who choose our Indianapolis area practice in Carmel, Indiana, will have their procedure performed in an accredited outpatient surgery center or hospital under general anesthesia to ensure maximum safety and comfort during the procedure. Detailed steps of the procedure include:
Dr. Grasee or Dr. Bergman will begin by making several small incisions in the treatment area. This allows the doctor to precisely access the excess tissue.
A long, thin, wand-like suction device called a cannula is inserted through the strategically placed incisions. The cannula is gently moved back and forth to loosen fat cells, which are then suctioned out.
Once the procedure is finished, the cannula is removed. In some cases, sutures are used to close the incisions.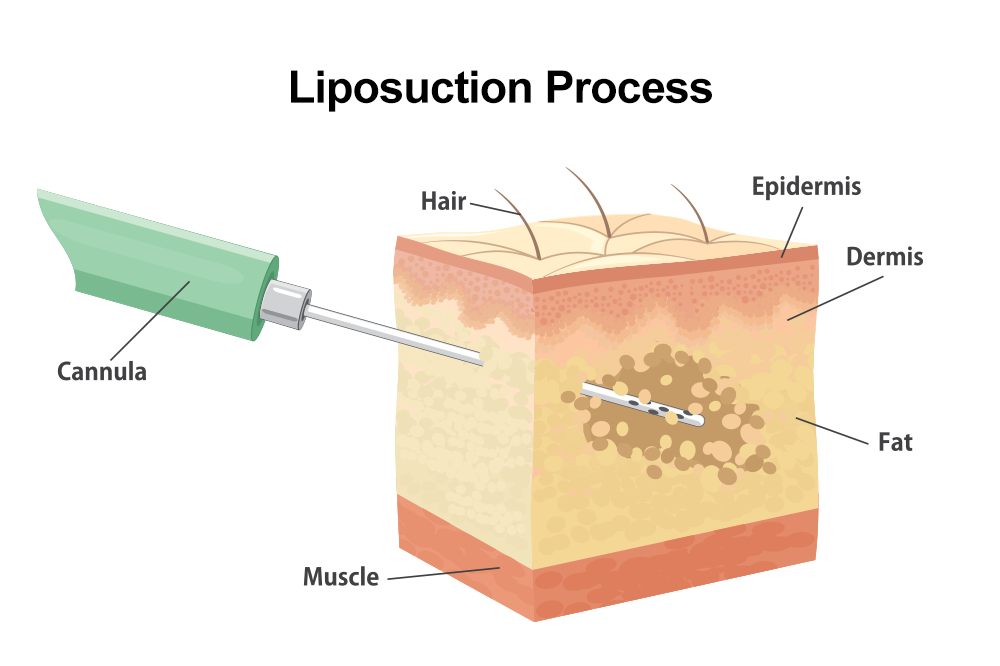 Advanced
Surgical Techniques
At our Carmel, Indiana, plastic surgery office, our plastic surgeons perform both tumescent liposuction and ultrasound assisted liposuction (UAL).
Tumescent Liposuction
The surgical process for tumescent lipo involves injecting a saline solution mixed with a diluted local anesthetic (lidocaine) and vasoconstrictor drug (epinephrine) into subcutaneous fat. This mixture eliminates the need for general anesthesia in many cases and provides localized vasoconstriction, virtually eliminating bleeding during the procedure. The tumescent liposuction technique also dramatically reduces bruising following surgery.
Ultrasound Assisted Liposuction (UAL)
This method uses a special cannula that vibrates at a high rate of speed and gives off ultrasound energy. As the UAL cannula passes through fat cells, the ultrasonic waves emulsify or liquefy the fat before it is suctioned out. Benefits of ultrasound assisted lipo compared to traditional liposuction include less trauma to surrounding tissue and smoother skin.